Features
IS FAST
It takes less than 30 seconds to accept an order from a returning customer. The employee searches for the customer by name or phone number and puts the order on the scale.
IS ORGANIZED
Launderers know exactly which orders to process first, customers are given accurate times as to when their clothes will be ready, and customers are no longer kept waiting when they pick up their clothes.
Delivery Scheduling
The feature of online delivery schedule is very informational to deliver a confirmation to the customer in order to inform them the delivery time of scheduled laundry.
REPORTING AND DASHBOARDS
Consolidates streams of data in meaningful ways that help you to spot patterns, trends, behaviors, and other market insights. Many CRM solutions can also generate real-time data that makes reporting more timely and accurate.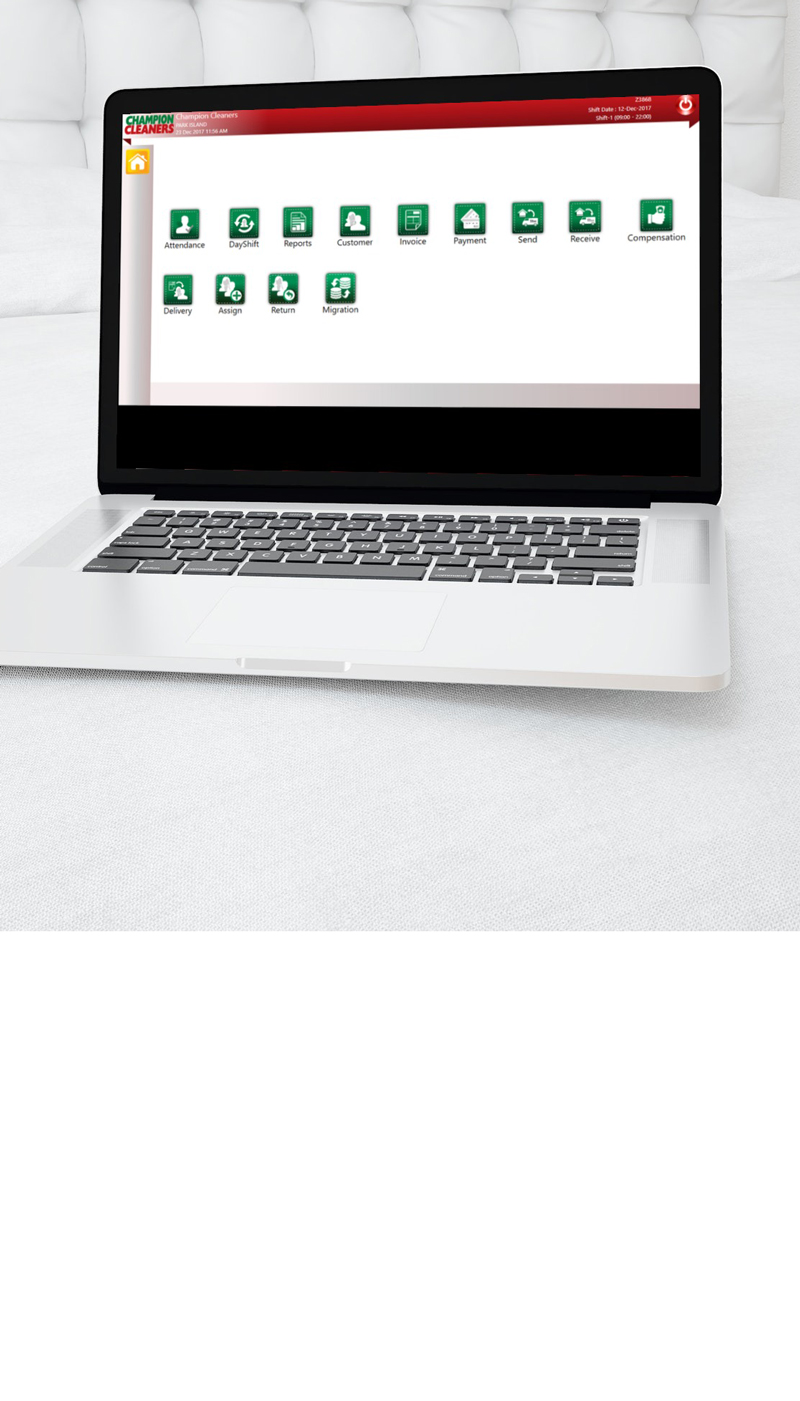 Online Laundry Tracking
The company has designed software in the shape of technology system where online tracking of laundry is available for customers.
IS EASY TO USE
The employees caught onto the software very fast. A testament to the intuitive software design is a Spanish speaking employee is a pro at the system, even though the software is in English.
HANDLES PICK UP & DELIVERY
The driver is given a list of pick-up and delivery destinations and customers are automatically notified by text message when the driver is on his way.
Customer Management
SGI has helped many customers as it acts as informational feature to connect with online laundries software. Online laundry is designed to provide complete ease to the customers.
Case Study
Technology Used:
HTML, CSS, ASP.NET, jQuery
About The Client:
Champion cleaner is an 8,000 square foot laundromat in india. By advertising online, its business went up from a modest $2,000 a month to many times that number. The pen and paper system that champion cleaner had been using was bursting at the seams and every mistake that could be made, was made. Each wash &fold customer is worth several hundred dollars per year and mistakes are costly.
The Problem:
Champion cleaner tried out numerous Point of Sales systems, but none of them matched the wash and fold workflow. The software solutions were clunky and led to more problems than they solved. The point of sale (POS) systems only managed the point of the sale and did not help after the sale. The POS systems did not keep track of open orders, pounds to be laundered, special instructions, ticketing, weighing the clothes after they're processed, locating orders, or employee productivity.
Goals:
The client wants to
provide user friendly software

Fulfill user's requirement
Challenges:
Champion cleaner wanted to expand their business by offering pick up and delivery. Champion cleaner needed a single system to handle both its in store and pick up & delivery business.
Our Approach:
Decrease transaction time

Fast reporting system

Customer satisfaction
RESULTS we achieved
In early 2016, Champion cleaner began using the Curbside Laundries software to help with their operations.Curbside Laundries provides wash and fold point of sale and process management software that is designed by laundromat owners and is made for laundromat owners