Features
Contact management
Organizes customer data in a centralized location. Contact details, demographics, transactions, customer service interactions, and other customer data are easily saved and retrieved.
Reporting and dashboards
Consolidates streams of data in meaningful ways that help you to spot patterns, trends, behaviors, and other market insights. Many CRM solutions can also generate real-time data that makes reporting more timely and accurate.
Lead management
Manages leads from prospecting to conversion. It lets you track sales activities, deals, and tasks and move them across sales stages. It also connects to contact management to let you view customer interactions and profiles in one window. Most CRM solutions allow you to customize the pipeline stages.
Deals and Tasks
CRM lets you add, assign, and track actionable items and feed them into the sales pipeline. Deals and tasks can be automatically populated with customer data or updated with real-time information.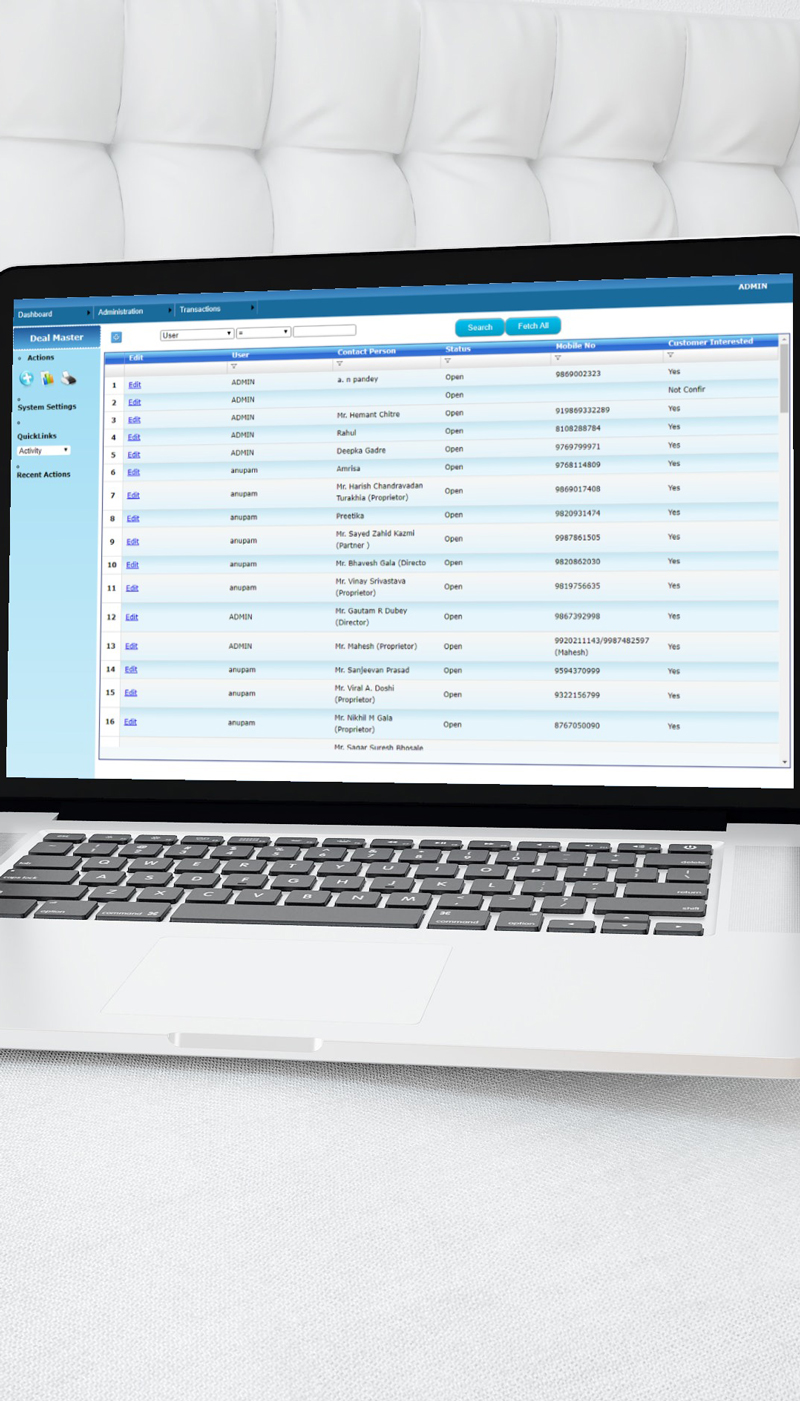 Campaign management
Manages campaigns from start to end, including setting up target customers, automating workflows, and measuring success based on clearly defined metrics.
Email tracking
Tracks opened or clicked emails and usually works with popular email clients and mailers like Gmail, Outlook, and MailChimp. Email tracking can be a part of campaign management or sold separately.
Social media management
Tracks social media activity of your audience, such as, likes and dislikes, comments, mentions, and shares. It can also be a part of campaign management or sold separately.
Mobile version
Many CRM solutions have Android and iOS apps, while others have mobile responsive sites.
Case Study
CLIENT:
Padmavati Reality
Technology Used:
HTML, CSS, ASP.NET, jQuery
About The Product:
CRM stands for Customer Relationship Management. Others prefere to call it Client Relationship Management.Mainly, the CRM Software allows businesses to manage business relationships, the data and the information associated with them. Successful CRM software solution are built around the people and relationships as in any business, you need to establish strong relationships with your customers.You as a business owner connect with the people who need your products or services.
Goals:
Client wanted to be sure the data would be safe and secure after migration, stored without the risk that it would be lost or corrupted. Additionally, their agents had become so used to old systems, that adoption was a major concern. A CRM solution needed to match the workflows of old systems, handle the unique data sources, and have an easy-to-use interface.
provide user friendly software

Fulfill user's requirement

using best resources which we have
Challenges:
Many of their day-to-day challenges revolved around the operational difficulties in managing data across old systems.

a huge data migration from old systems

data security

user adoption
Our Approach:
concentrate on data uploading in bulk like excel sheets

separate reports for data anaysis

Graphical representation for each reports

employee-wise performance reports
RESULTS we achieved
easy to use

well organize

multiple data can handle easily

user friendly